The Virtual Fort Worth ARTCC Presents: The Summer Sizzle FNO 2022
Jul 08, 2022 | 2300z 0300z
Event Archived
This event has passed and is now in a read-only archived state.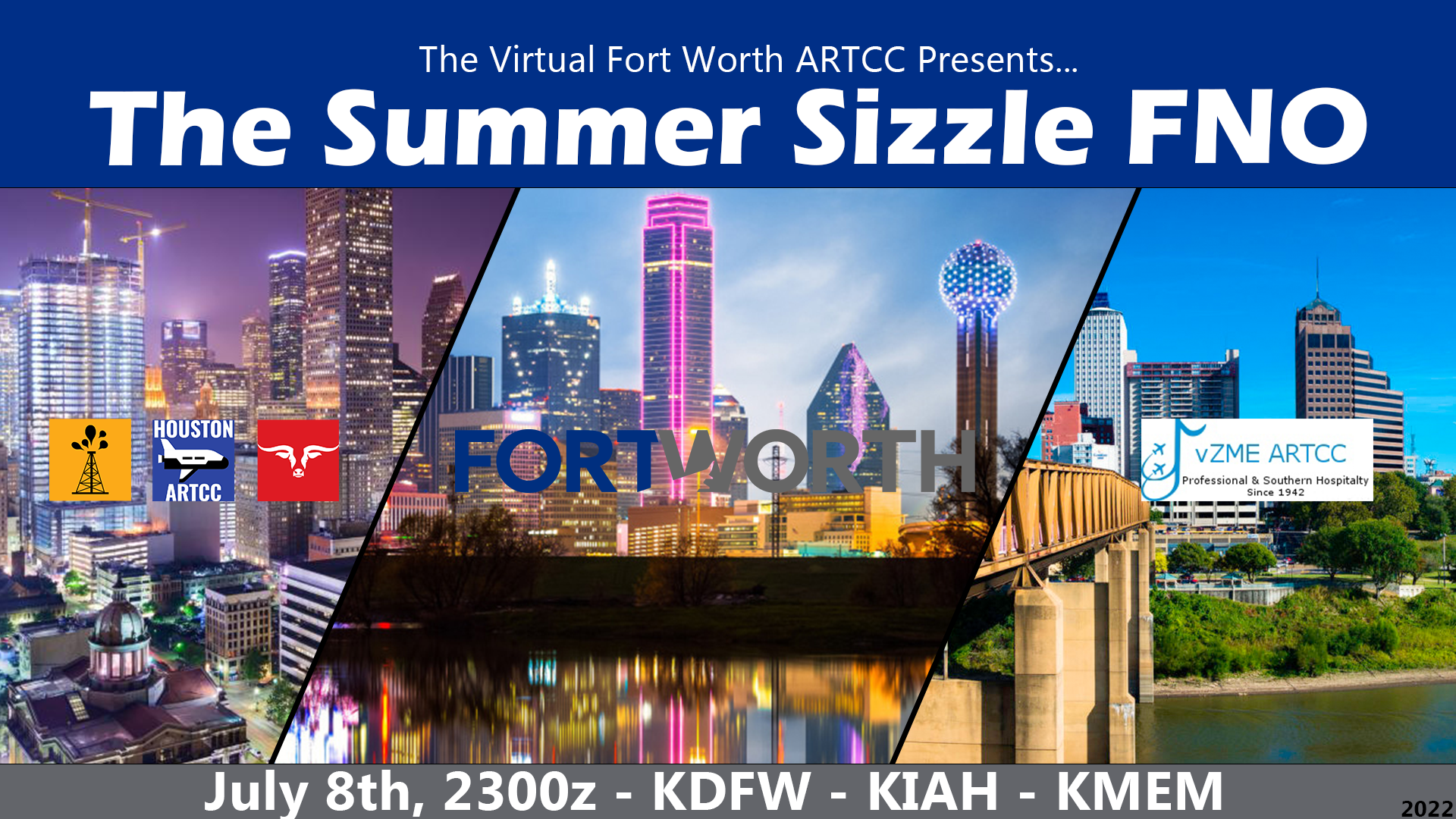 Presented by ZFW, ZME, ZHU
It's that time of year again! Wipe off that hot summer sweat and make sure your packs are on, Texas is ready for y'all!
Join ZFW, ZHU, and ZME on July 8th at 2300z for the Summer Sizzle FNO. Featuring KDFW, KIAH, and KMEM.
Callsign
Controller
Position Radio Name
Frequency
JAX_30_CTR
Unassigned
Jacksonville Center - NEPTA
135.925
JAX_35_CTR
Unassigned
MCO_E_APP
DR - Damien Lunior
Orlando Approach - Departure Radar East
124.800
JAX_N_APP
Unassigned
Jacksonville Approach - Radar North
127.00
ANY_APP
Unassigned
Departure/Approach
TBD
MCO_E_TWR
Unassigned
Orlando Tower - East
118.450
MCO_W_GND
Unassigned
Orlando Ground - West
121.800
JAX_TWR
Unassigned
Jacksonville Tower
118.300
JAX_GND
ML - Matias Lottinville
Jacksonville Ground
121.900
MCO_DEL
Unassigned
Orlando Clearance Delivery
134.700
JAX_DEL
Unassigned
Jacksonville Clearance Delivery
119.500
ANY_GND
Unassigned
Ground
TBD
ANY_TWR
Unassigned
Tower
TBD