Event Archived
This event has passed and is now in a read-only archived state.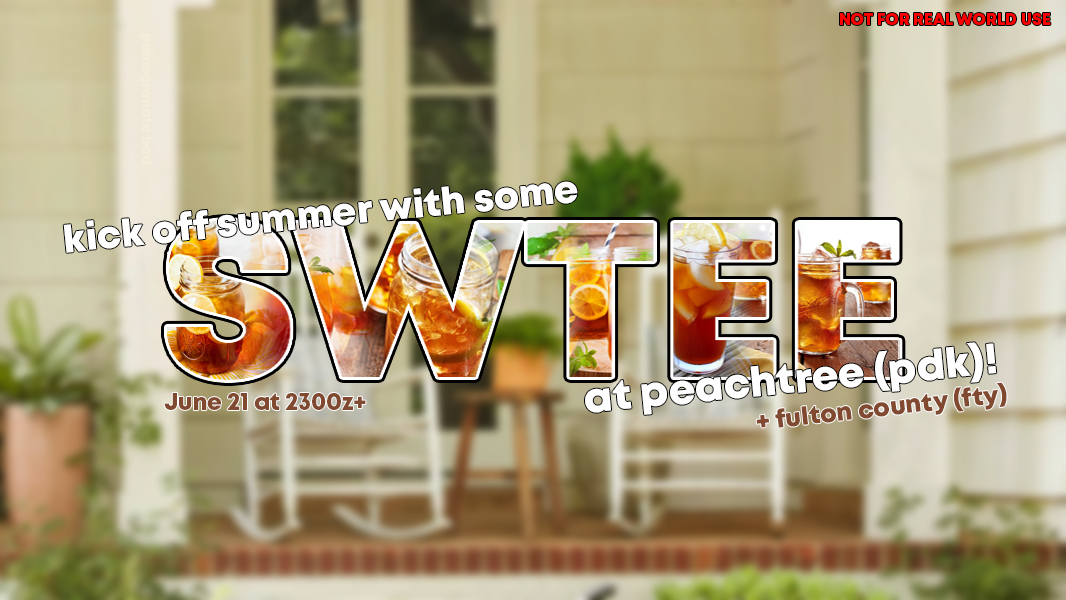 SWTEE at PEachtree
Presented by: ZTL
Event Time: Jun 21, 2022 | 2300z - 0300z
Join ZTL as we celebrate the start of Summer on June 21st at 2300z. Sweet Tea, a staple of the Southeast, is featured on the SWTEE2 arrival into Peachtree (PDK), Fulton County (FTY), McCollum (RYY), and Gwinett (LZU).
6/21 @ 2300z
KPDK/KFTY/KRYY/KLZU
Positions Assignments
Center Positions
Tracon Positions
| | |
| --- | --- |
| MCO_E_APP | Case Tatro |
| JAX_N_APP | Unassigned |
| ANY_APP | Unassigned |
Cab Positions
| | |
| --- | --- |
| MCO_E_TWR | Unassigned |
| MCO_W_GND | Nicholas Ader |
| MCO_DEL | Unassigned |
| JAX_TWR | Unassigned |
| JAX_GND | Christopher Loman |
| JAX_DEL | Cole Hanson |
| ANY_TWR | Unassigned |
| ANY_GND | Unassigned |